---
Android Community covering Google I/O
Posted: 09 May 2011 10:51 AM PDT
The time is almost here for Google I/O. Beginning tomorrow, the annual Google confab will run through Wednesday and Android Community will be there to cover it. LIVE! You can expect up to the minute coverage of everything coming out of the conference. Look for fast links from our Facebook Page, and via Twitter, along with more in depth coverage here on AC. Here's a quick look of what to expect ….
The Keynotes themselves will be wall to wall about Android and Chrome, so there will be a lot to talk about. There's a ton of buzz that we'll hear more about the latest flavor of Android for handsets known as Ice Cream Sandwich. Google will likely also talk about the updates to the Android Market as well. Other topics will include Google TV and Chrome.
As a compliment to the coverage on AC, users can also download the official Google I/O app from the Android Marketplace. We did a detailed breakdown of its features here, and it's sure to be a great way to follow speeches, official bulletins, and catch the official Google I/O twitter stream as it happens. Then, come back to AC for in depth analysis, a bevy of hands on reporting, and breaking news from inside the event! Don't miss a minute!
Google I/O: countdown to the keynote kickoff

In less than 24 hours, we'll be kicking off Google I/O 2011, our annual developer conference here in San Francisco. With more than 5,000 participants from 60 countries, including 110 sessions, 261 speakers and 152 Sandbox partners, this year's I/O will be the biggest one yet.

This year's keynote presentations will highlight the biggest opportunities for developers and feature two of our most popular and important developer platforms: Android and Chrome. Google engineers from Andy Rubin and Sundar Pichai's teams will unveil new features, preview upcoming updates, and provide new insights into the growing momentum behind these platforms.

Plus, for the first time in Google I/O history, you'll be able to join us throughout the two days at I/O Live. We'll live stream the two keynote presentations, two full days of Android and Chrome technical sessions, and the After Hours party. Recorded videos from all sessions across eight product tracks will be available within 24 hours after the conference. Whether you'll be joining us in San Francisco or from the farthest corner of the world, bookmark www.google.com/io and check back on May 10 at 9:00 a.m. PDT for a fun treat as we count down to 00:00:00:

If you're attending the conference this year, we can't wait to meet with you and share our vision for the future of web and mobile development. If you aren't able to make it this year, you can continue to follow us on the Google Code Blog and on Twitter (#io2011) over the next two days as we share photos, videos, news, and recaps of the event. It's going to be an exciting 48 hours!

Vic Gundotra, Senior Vice President of Engineering
)
HTC's 10 inch tablet known as Puccini
Posted: 09 May 2011 10:31 AM PDT
A rendering of HTC's new 10 inch tablet has been leaked, as well as it's working name. Code named "Puccini," the Flyer's big brother looks to be one of the first tablets coming for AT&T which will connect via 4G/LTE. Other than that, we don't really know a lot. Interesting that the rendering doesn't appear to have the stylus incorporated with it, but there's talk it will support the Scribe capacitive pen. Other specs? At this point, it's anyone's guess.
Spinning of what it's little brother, the HTC Flyer, already has, it's a good bet it'll likely support a dual-core processor, and supporting the Scribe pen means it'll have a similar, albeit larger screen to the HTC Flyer. There should also be the usual cameras, flash support, and a Sense overlay. But that's all speculation at this point. There one thing we can be pretty sure of, it'll run Android 3 (Honeycomb).
And since the name is Puccini, it's seems to be named after Giacomo Puccini, a late 19th/early 20th century composer of such epic operas as Madame Butterfly and La Bohème. So could that point to HTC positioning the tablet as a creative tool for musicians and artists? Why not? Apple has showcased the iPad's music capabilities to great effect, so it would make sense to show Android lovers that they can make beautiful music together as well.
The tablet has been rumored to available through AT&T next month, so there's not that much time to wait. So stay tuned.
[via Pocket Now]
)
Samsung Galaxy S II at 3 MILLION Pre-Orders
Posted: 09 May 2011 10:15 AM PDT
Sunday night revealed itself as a moment in history for Samsung – one where they revealed their newest flagship, the Galaxy S II to have achieved 3 MILLION pre-orders. That's a lot. That's a whole heck of a lot. That's worldwide pre-orders, and this is yesterday, Sunday, the 8th of May when the phone went on sale officially in Korea. This number is expected to up as the phone reaches a global reach, eventually going on sale in 120 countries. Wild and crazy! Best phone ever!
This is the next step after our article up a few days ago entitled Samsung Galaxy S II smartphone sells like crazy in first three days. Can you imagine a Samsung environment where this trend continues? It's like Apple out there! And what's all the fuss about? Isn't this just a new version of the best selling Android phone in history? Why yes, yes it is, and it's a freaking doozie. It's a dual-core TouchWiz 4.0 toting 4.3-inch Super AMOLED Plus having galaxy device with no less than Gorilla glass and a 2 megapixel camera on the front, an 8 megapixel camera on the back amidst an utterly sweet textured battery cover, and it smells great!
Samsung's predictions for the phone added up to 10 million Galaxy S IIs shipped for the entire year – perhaps they'll be off by a few million? Better start up the production factory again, call back in the robots. Have a look at some more benchmarks if you dare and see how it'll be blasting your face off (and everyone else's face off too) once it's release worldwide. It's currently out in just a few countries, Korea and areas in the UK included. EDIT YES I know the UK is not a country. Fah!
Check out our good pal Chris Davies review of the Euro version of this monster on SlashGear.
Check out the press release below:
Samsung Galaxy S2 Has Reached the Mark of 3,000,000 Pre-orders Globally

Samsung Electronics' flagship smartphone Galaxy S II is becoming a global buzzword right after its release. Samsung Electronics said that its newest smartphone Galaxy S ll has reached 3,000,000 pre-orders globally as of the end of April.

The number of the pre-orders seems very likely to increase as Galaxy S ll is planned to release in 120 countries by some 140 carriers. IT product review channel Engadget praised Galaxy S II as "the best Android smartphone yet, but more importantly, it might well be the best smartphone." Another IT channel Slashgear also reviewed that Galaxy S II's 4.3 Inch Super AMOLED Plus is the most advanced OLED Panel technology.

Officials at Samsung Electronics mentioned that "There are quite a few demands in some countries to ask for preferred orders for the supply of Galaxy S II," adding that "We will do our utmost best to ensure that all the global demands should be met as quickly as possible."

삼성전자 전략 스마트폰 '갤럭시S Ⅱ'가 출시와 동시에 세계 각국 이통사로 부터 주문이 쇄도하며 글로벌 돌풍을 예고하고 있다. 삼성전자는 지난 4월말 국내에 선보인 전략 스마트폰 '갤럭시S Ⅱ' 글로벌 예약 주문이 300만대를 넘어섰다고 밝혔다.

갤럭시S Ⅱ의 300만대 예약 주문량은 일반폰과 스마트폰을 통틀어 올해 출시된 삼성 휴대폰 단일 모델로는 최다 예약 주문량이다.

특히, 갤럭시S Ⅱ는 전 세계 120여개국 140여개 사업자에게 순차적으로 공급될 예정으로 주문량은 더욱 늘어 날 것으로 보인다.

일례로 미국 IT 전문매체 엔가젯은 '갤럭시S Ⅱ'를"최고의 안드로이드폰을 넘어 최고의 스마트폰으로 꼽을 수 있다"라고 호평 했으며, IT 매체인 슬래시기어는 '갤럭시S Ⅱ'의 4.3인치 슈퍼 아몰레드 플러스는 OLED 패널의 가장 진화된 기술을 보여 준다고 호평했다.

삼성전자 관계자는 "일부 국가에서는 '갤럭시S Ⅱ'의 물량을 우선 배정해 달라는 요구가 적지 않다 "고 하면서 "삼성전자는 '갤럭시S Ⅱ' 글로벌 공급에 차질이 없도록 최선을 다할 것"이라고 말했다.
)
Posted: 09 May 2011 09:11 AM PDT
Behold, the herald of Galactus!* Truly if ever there were a phone sent by a manufacturer to pave way for a much more powerful phone, this is it. The Samsung Infuse 4G is to the untrained eye a gigantic screen with a powerful single-core engine under the hood and a big fat camera on the back of a "razor thin" candybar form factor. The Samsung Infuse 4G is currently the the holder of the biggest and brightest display of all Android devices classified as a handset. Larger than this and they're tablets. Smaller than this and they're just pipsqueaks with a weight problem. Will it stand up to the current state whilst riding on into a future with a big cousin looming quickly overhead? View here a conundrum!
Before we go on, have yourself a look at the release-day unboxing in NYC we've got up as well as the day after hands-on at home. That ought to give you an alright idea of what we're dealing with as for how this device looks and feels in the hand. Quite a unique chassis is to be held.
Hardware
We've had our hands on the first device to roll out with a Super AMOLED Plus display, the DROID Charge, also from Samsung, and let me tell you, it only gets better with additional inches. The Samsung Infuse only adds .2 to the display over the Charge, but at 4.5-inches and the largest Super AMOLED Plus display in the world, it feels like the biggest and the best. Upon plugging in the 32GB microSD card I keep around with a couple of big bad movies optimized for Android playback [as converted using this guide] I was thoroughly impressed. Making sure to use DoubleTwist Media Player as it automatically compensates for widescreen format movies.
Sweetness unfolds!
The device is a 5-inch by 2.34-inch by .375-inch candybar – just the tiniest sliver thicker than the thinnest handset in the world, the Galaxy S II. That means it's pretty freaking thin. The Infuse weighs in at 4.09g, making it also one of the lightest handsets in the world. Better watch out of a gust of wind will carry this phone away. It's got a 4.5-inch 480 x 800 pixel Super AMOLED Plus display, meaning again that it's the biggest and brightest display for a handset on Earth, and it's got a 1.3-megapixel camera on the front and an 8-megapixel camera on the back capable of 720p video recording [see examples later in this review.]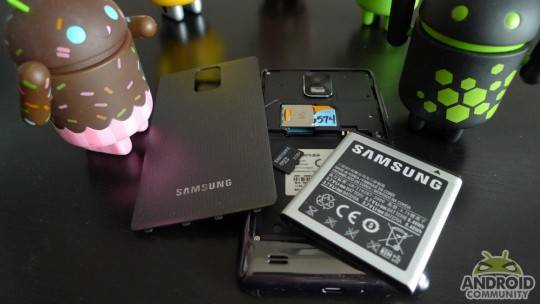 To access your battery, just pop off the back hatch – a very well constructed solution to the battery cover situation that's been evolving nicely since the birth of smartphones such as these. An inside solution for a normally all-or-nothing predicament. Very classy. On the other hand, you've got to remove the battery to get access to your microSD card – nothing in the wide wide world of microSD cards irritates me more. For SIM card swapping, if that's your deal, you've go nothing to worry about – flip at will!
The device makes up for how abnormally wide it feels in the hand with how thin and light it is. It doesn't FEEL like it's as big as it is. Yesterday, Mother's Day, this was the device I pulled out multiple times to show grandmothers photos of my wife and I's newborn child (and yes, I had multiple smartphone-devices with me.) It's big! It's beautiful! It certainly makes no qualms about being out there and proud of it.
Hugeness awaits you.
Software
This is a Samsung phone so you're rolling out with TouchWiz, a user interface that the manufacturer has created to differentiate themselves in the Android software world from hoards of competitors with their own similar solutions. TouchWiz is one of the nicest, one of my favorites, I'll admit, and for a manufacturer-made UI, it's not bad, and hasn't been bad for a while. This is one of the last phones you're going to see running the 3.0 version of TouchWiz, the brand new fabulous TouchWiz 4.0 [with brand new super features] being released on the Samsung Galaxy S II. TouchWiz 3.0 is a tested and true UI, and it's basically a certainty that they'll update this device to 4.0 asap – or at least one would hope.
This device comes with 38 pre-installed apps, the majority of which, as per usual, come from Google. Therefor they're generally helpful and aren't the end of the world horrible to have on hand. There's no native video chat app, but all the regular suspects work fine, and items from AT&T include myAT&T, AT&T U-Verse Live TV, AT&T Code Scanner, AT&T FamilyMap, and AT&T Navigator (powered by Telenav.) Beyond Allshare and YPmobile, there really isn't a whole lot of clutter you'll be having to deal with, and if you're one of the thousands and thousands of Android users who doesn't like to have ANY bloatware on their device, root is certainly impending. Maybe a click or two and you'll be on your way.
As for benchmarks, scroll down to performance and have your fill. Also be sure to check out Samsung Galaxy S II vs Infuse 4G Quadrant Benchmark Pummeling for a good giggle.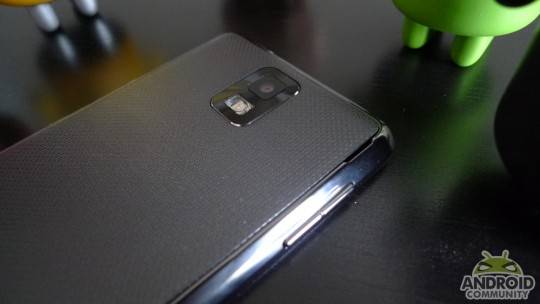 Camera
On the front of the Infuse you're going to find a 1.3-megapixel camera for video chat and photos and an 8-megapixel camera on the back for video and photos as well. These numbers are basically pre-requisite for a top-tier device such as this these days, and we expect quality! Thusly, check out the results here:
Front-facing 1.3-megapixel Photo
Back-facing 8-megapixel Photo
Back-facing 720p Video
Back-facing 8-megapixel Flash Photo
MHL Adapter Accessory
This device is one if not the very first device to be formally released with relatively new MHL technology allowing for your microUSB port to output to HDMI as well as USB for power and data transfer. To work with HDMI, however, you've still got to use an MHL adapter. Thankfully, you get a standard Samsung MHL adapter in the box when you purchase your Infuse. From what I can tell, video appears to be transferring through this adapter just as well as it does via a regular miniHDMI port on devices like the Motorola XOOM and LG G2x. For more information on this accessory, see the post entitled Samsung Infuse 4G MHL Adapter Requires Wall Plug to Work – deal breaker or positive move?
Phone and Performance
Voice call quality has been no less than superb, both to and from the phone, multiple phones on the other end tested. This phone has 2 microphones for noise cancellation (as all good phones should) and they work like a charm. There's been some complaining over the past few years of the irritable call quality on the AT&T network across the nation, but yours truly here in Minneapolis Minnesota hasn't had much more than the occasional dropped call – and none of them happened on the Infuse.
As far as performance goes, discover for yourself some benchmarks and compare at will to the competition. A year ago this phone would have had top hat it many categories. Today it falls a bit short of the big runners because it's got only a single-core processor. Does that mean it should be dismissed? Heck no, it's still a massively impressive multimedia device capable of wonderful things. Discover its numbers!
Battery
Inside you'll find a 1750 mAh battery which thus far has provided 10 hours MAX with heavy usage. For an everyday user I'd suppose a full day would be a reasonable goal without a charge, but like with any superphone such as this, keep a charger in mind, if you know what I mean. Its got nowhere near the super-drain that the HTC ThunderBolt does, but it's not going to win any several-day awards. Pretty average battery life amongst similar devices.
Wrap-Up
Impress your friends with the fact that you've got the biggest brightest display on the market! Play a movie or two from the comfort of your own palm in glorious high definition! Record some 720p video, take some 8-megapixel photos, and play Angry Birds like you were carrying a tiny tablet! If you're familiar with the story of *Galactus, Devourer of Worlds, and his herald the Silver Surfer, you'll understand what I mean when I say that this device has the Power Cosmic, but it's about to pale in comparison to the hungriest of phones, the USA version of the Galaxy S II. Does that mean the Infuse should be dismissed? Absolutely not. This phone, like the Silver Surfer, is a radically awesome device with a story all its own.
But should you buy it? That's why you're here, right? This device costs $199 with a 2-year contract and no need for a rebate. That's fairly cheap for a device such as this, and AT&T's data network is pretty darn good when it comes to download speeds. I can't say much for their upload speeds at the moment as I'm rather suspicious of them, but the download speeds are right up there with Verizon's LTE. That's no small claim.
If you don't feel the need to wait for the Galaxy S II, go ahead and purchase this device. It's the nicest Samsung device on the market today, and you're going to enjoy the heck out of it.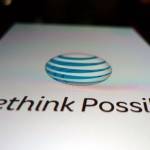 )
Nexus S 4G smartphone hits stores
Posted: 09 May 2011 06:52 AM PDT
We reported late last month that the Nexus S 4G smartphone would be landing on May 8, which was yesterday. The smartphone is cool and supports speedy 4G connectivity with the WiMax Sprint network. The phone is nice looking too with smooth, rounded edges and a glossy black sheen to it. For me the most notable design feature of the smartphone is the slight curve to the device and the contour display follows that curve.
The screen is a 4-inch Super AMOLED and the phone packs in all the latest technology. It has NFC technology inside so it will be ready for the future mobile payments and other cool NFC uses. The phone supports 802.11 b/g/n, Bluetooth, A-GPS and has a USB 2.0 port. The smartphone runs Android 2.3.3 Gingerbread and the OS has no custom tweaks so updates to Android will be easy to apply with no wait, as some smartphones have to endure when they are heavily customized.
The Nexus S 4G is on the Sprint network for $200. If you want to save yourself some green though you can hop over to Best Buy and pick it up with a $50 discount. Either way you will need to sign a new 2-year contract with Sprint to get the phone. Rounding out the features after a 1GHz Hummingbird processor, front VGA resolution camera, 5MP rear camera, and 16GB of internal memory.
[via Gottabemobile]
)
HTC ChaCha and Salsa up for pre-order
Posted: 09 May 2011 05:42 AM PDT
We have already talked about the HTC ChaCha smartphone before and know some of the details on the device already. It and another HTC smartphone called the Salsa are aimed at the social networking fiend that wants a smartphone centered on Facebook and more. Both the ChaCha and the Salsa are up for pre-order right now on Amazon in the UK. Both of the smartphones are tipped to launch this summer.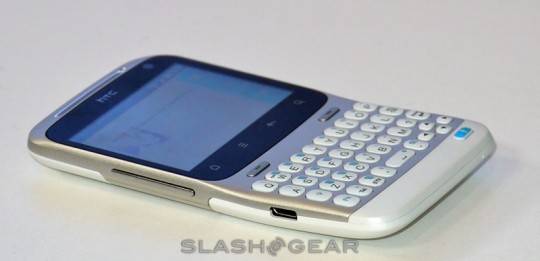 The launch date that Amazon lists is June 26, which is a bit over a month away from now. It's worth noting that the launch date is about a week later than earlier reports had pegged. The ChaCha has a QWERTY keyboard on the font and has smaller screen measuring in at 2.6-inchs. The screen resolution is 480 x 320 and is capacitive touch sensitive. It runs Android 2.3 and has a 600MHz processor. The rear camera is a 5MP unit and the front is VGA resolution.
The Salsa is all touchscreen with a 3.4-inch screen. The resolution of the screen is 480 x 320 and it is a capacitive touch unit. The smartphone runs Gingerbread and has a 5MP rear camera. It will be for HSDPA networks and has WiFi. Amazon lists the price of the ChaCha at £249.99 and the price of the Salsa is £319.99. These will make appealing entries for the new smartphone user and I bet they will be much cheaper than those prices with subsidies from carriers.
[via Dialtosave]
)
Amazon drops the price on the Droid Incredible 2 another $20, now $79.99
Posted: 08 May 2011 08:58 PM PDT
Amazon is getting seriously competitive in their pricing for the HTC Droid Incredible 2. They are currently listing it for $79 with a new two year contract from Verizon. That's $120 cheaper than Verizon's best price! And it hasn't really been around that long either.
With the trend moving quickly towards multi core handsets, it's really not surprising. But just because this phone only has a single core 1Ghz Snapdragon processor, doesn't mean it's slow. In fact, with 1GB of ROM and 768MB of RAM is can really hold it's own. Couple that with the 4 inch WVGA Super LCD screen and an 8 megapixel camera with dual LED flash and users have a solid handset.
Now sure, it's running Android 2.2 (Froyo) out of the box, but HTC is on the path to updating their handsets to Gingerbread and has been promising that the Droid Incredible 2 will get their update by summertime. Still, it's a 3G phone, so if users have 4G in their area, they may experience some speed envy with their friends and wishing they have gone the quicker path. Then again, when 4G users are reaching for their chargers Incredible 2 users will still have plenty of juice to end the day (not to mention extra cash in their wallets). For those on a budget, it's hard not to pass that up.
Check out our review by Samia Perkins here.
)
The Amazon Tablet is a rumor that refuses to die
Posted: 08 May 2011 08:11 PM PDT
DigiTimes is reporting that Taiwan based Quanta Computer has received a monthly order from Amazon for up to 800,000 tablet PCs at peak production. The tablets are expected to ship in the second half of 2011, making an Amazon Tablet ready to hit the market just in time for the holidays. Quanta is no stranger to tablets, being an OEM partner for both RIM and Sony. So, is it a credible rumor? Well, the touch screens are expected to be made by E Ink Holdings, which provides the screens on the Kindle. They use an electrophoretic display supported by Fringe Field Switching technology, which is just a fancy way of saying they've got great color gamut and bright, bold colors, according to Wiki.
Amazon is also apparently planning to clear out their stocks of Kindle eBook readers by dropping the price and courting the education and consumer markets. But the question is, will users bite on a Kindle, when they can wait for an Android Tablet at Christmas or even buy a Barnes and Noble NOOKColor right now? And while an Android tablet won't likely impact the upper tier of iPad, Motorola XOOM or Samsung Galaxy, initially, it's bound to go head to head with the NOOKColor in a no holds barred marketing match. Frankly, with Amazon blazing the trail already with it's Amazon App Store for Android, and larger e-commerce footprint, it's definitely got the advantage there.
What is really interesting though, is that with E Ink Holdings providing the screen, it'll be interesting to see if a touch screen can come even close to the the E Ink display on the Kindle. It's going to take a lot for an Amazon tablet to break away from a pack that includes such heavy hitters as the e-readers listed above. "If Amazon can position itself with a new technology element, improved battery life, or push its app store experience as one superior to the Android Market, it could be a winner.
[via DigiTimes]
)
Android T-Shirts are geek chic
Posted: 08 May 2011 04:46 PM PDT
T-shirt makers who are Android obsessed are bound to incorporate their love for the Bot into all their other obsessions. And the geekier the better. That's why these Android T-shirts are so cool, they incorporate so many pop culture references that their almost an inside joke for those cool enough to appreciate. And they cross generations as well as geography, too, which makes them even cooler.
The shirts are designed by a company called DroidArmy and they've got over 20 different designs. From British imports like Doctor Who, to everyone's favorite obsession known as Star Wars (my personal fav is "Handroid," second row, second from the left). There's also classics like Winnie the Droid and Teenage Mutant Ninja Droids. Man, who've though TMNT would be considered "classic!" And you can't go wrong, with the Bot as the Tardis with Dr. Who and Amy Pond.
Other Droid shirts include Judge Droid, Dead Pool, Indiana Jones and the Temple of Droid with the Sankara Droids (how's that for an obscure Temple of Doom Reference?), a Cylon Droid T-Shirt, and is that "Hello Kitty?!" There's even an Angry Birds Bot with the Black Bomb Bird. But the cutest has got to be "I Put a Droid in your Droid" The shirts are $23.94 over at RedBubble and are available in different colors.
[via AndroidPolice]
)
You are subscribed to email updates from Android Community
To stop receiving these emails, you may unsubscribe now.
Email delivery powered by Google
Google Inc., 20 West Kinzie, Chicago IL USA 60610