---
All 5,000 Google I/O Attendees Receive Samsung Galaxy Tab 10.1 for free
Posted: 10 May 2011 10:53 AM PDT
Whoa, if the audience at Google I/O was excited by all the huge announcements, it was nothing compared to the craziness that followed this. Everyone attending the conference got a device of some great significance. This is the big deal, the huge one that makes for the future of the platform, the device given out is the one that takes the cake for the rest of the year – so what is it? A Samsung Galaxy Tab 10.1, a fully functional one, for every single one of the 5,000 attendees of the conference. This tab will be running Android 3.0 Honeycomb. Are you excited? If you're there, you definitely should be.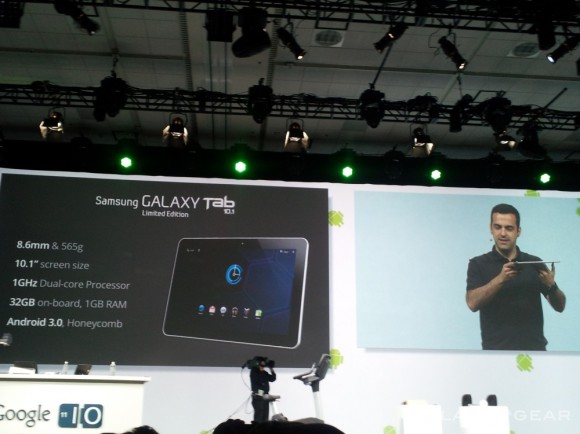 This is the icing on the cake for one of the most massively packed keynotes in the history of the world, one that showed 100 million activations and 4.5 billion installs of Android. One that showed off Android Honeycomb 3.1. One that announced Android Ice Cream Sandwich. One that showed off Movie Rentals and Music Beta. And one that announced Android Open Accessory!
An absolutely crazy and wild 50 minutes, the most packed 50 minutes we've ever seen, and a keynote that's never to be forgotten. Have a look at the rest of our coverage of the event as well as some analysis coming up post haste here on Android Community and over on our sister site SlashGear!
)
Guidelines for Device Updates Announced by Google for Android at Google I/O
Posted: 10 May 2011 10:40 AM PDT
Another huge move by Google that made the audience completely lose it was the announcement that they will soon be working with carriers around the USA and the UK to create guidelines for device updates. So why does that matter? Why should you care? This means that you'll now be able to KNOW what if your device will be getting updates in the future, instead of having to guess when the newest Android version will be coming to you, or even if it will before the end of the device's lifespan. In other words, this is basically the best news ever!
Each new device, according to Google, will not get the newest update until 18 months after their release, and depending on if their hardware will allow it. What this means is that devices will not be left in the dark any longer after when they've only been out for a small amount of time. This has been a problem for Android device users in the past and this change is going to give support to Android users in the future. Android is stepping up!
Keep your eyes peeled to both Android Community and our sister site SlashGear for all the I/O announcements you can handle! Check out our Google I/O portal and hold onto your hats because this is only be beginning!
)
Android Ice Cream Logo Revealed, Features Detailed
Posted: 10 May 2011 09:52 AM PDT
At Google I/O in the very first keynote at on the very first day was a gigantic announcement set including no less than Ice Cream Sandwich being revealed in bits. The biggest best piece of this announcement was of course the logo – seen here and in the video below. What else does this new version of Android include? Not much thus far, most of the features being noted as available for Android 3.1 Honeycomb now, more than likely moving on with ICS down the line.
See this video for the super fancy logo reveal and stick with us in the heat of the melting sandwich for additional bits. Check with our Google IO 2011 tag at http://androidcommunity.com/tag/io-2011/ for all the info you could possible desire. This is just the first of many announcements that'll be made during this conference, not the least of them to be sure.
Note: regardless of what you may have heard, not a whole heck of a lot was revealed about Ice Cream Sandwich in this first Google I/O keynote. The logo was revealed, sure, but on the whole, it seemed more like a candy cane than a whole Christmas dinner, if you know what I mean. At least we'll be able to update our forum marker image!
)
Google Adds Movies to Android Market
Posted: 10 May 2011 09:44 AM PDT
Google announced at Google I/O's first keynote that they'd be adding movies to their repertoire, allowing you to rent anywhere and watch anywhere movies, this feature live at market.android.com. This feature would be available for Android 2.2. Users will have a choice of over 3,000 Hollywood feature videos through YouTube. Some will be free with commercial advertising, following the classic broadcast TV model.
Google I/O is the annual programmer and developer confab going on it San Francisco at the Moscone center until tomorrow. There's a flurry of announcements coming which are sure to piggy back on Google's movie announcements, so stay tuned for more coverage!
)
Android 3.1 Honeycomb demoed on Motorola XOOM
Posted: 10 May 2011 09:38 AM PDT
Google I/O continued this morning in the official keynote with technology that included face and head detection, mouth, eye, eye detection, all of these on Android 3.1 Honeycomb, an update that would be coming out on Verizon first and exclusively. Whether or not this update would soon be coming out on other carriers or not would be spoken about soonish – we hope. All of this was being demoed on a Motorola XOOM tablet.
Android developer superstar Anand on stage demoed that the device would soon be able to detect who is speaking in a video and focusing on them depending on when they're speaking. This is only the tip of the iceberg – the most important bit here may be that this entire experience is done on a XOOM. More as we get it.
)
Android 3.1 Honeycomb Rolling out on Verizon Exclusively
Posted: 10 May 2011 09:34 AM PDT
Widgets are now able to be stretched with only a few lines of XML. Important of photos will soon be able to be imported directly to your Android device, your XBox controller will soon be able to be used with your tablet, and more. Android 3.1 Honeycomb will soon be on Google TV as well as tablets as well. Very exciting items. Coming up in this as well. Check back in this post for additional news bits as well as the IO 2011 tag for additional bits.
How and when the update will be coming to the rest of the devices in the Honeycomb family will be announced later this week if we're lucky! More as we get it, follow the IO 2011 tag as found at the top of your browser window!
)
Music Beta Announced at Google I/O, Free in Beta
Posted: 10 May 2011 09:33 AM PDT
Music Manager was announced in addition to Music Manager, both of them extremely powerful music projects that'll allow you to easily purchase and stream music to your Android devices, all of them, all at once. Playlists were announced, "instant mix" noted as a sort of "genius," if I might be so bold, allowing you to have what appears to be a perfectly wonderful creation based on what works best together. Music Beta not the web is separate but equal to Music Beta on your tablet device. All of your local music will show up on your tablet as well as your online content streamed to your device instantly.
Playlists were pushed heavily, each of them showing up with lovely colors and instantly based on the Instant Mix feature. Caches of music just played can be played offline even if they're not on your device, this same feature showing up for movies. This service will allow 20,000 songs to be held and – this is important – WHILE ITS IN BETA, it's free. Android 2.2 and higher devices will be able to download the newer version of Music today from the app store.
)
Live from Google I/O Keynote – all about Android
Posted: 10 May 2011 09:26 AM PDT
Vic Gundotra was the first person to step on stage at Google I/O this year, his speech beginning with talks about the history of the conference. He basically instantly sent a fight call out at Apple with a lovely illustration of an Android eating a piece of well-chosen fruit. He went on to speak on how there's viewing parties taking place now all around the world, regardless of the time. The first person Gundotra called on stage spoke on how 100 Million Android activations have taken place worldwide, and that their speaking points would be three Ms. Momentum, Mobile, and More.
Momentum
The speech continued here with impressive statistics like 400,000 Android devices activated every single day, 200,0000 available apps in the Android Market. Pulse, Gun Brothers, Tap Tap Revenge, and more are name-dropped to show how the greatest apps are being delivered on Android. App installs have reached 4.5 billion since the beginning of the platform, the amount of installs increasing exponentially each day.
The speech continues here with engineering and product platform speaking. Behold in the I/O tag for what you need in the future of the rest of the event.
)
Waiting in Line at Google I/O for the First Keynote [UPDATE: We're in!]
Posted: 10 May 2011 08:52 AM PDT
Today at 11AM Central time is the first Google keynote speech, and we're currently waiting in line for the bigtime door opening. There's about ten billion people standing in line here, but I assure you, we'll have the big news first! That is to say, we'll be the first to be analyzing while everyone else is running around screaming because Ice Cream Sandwich is the greatest thing since they created the original tasty treat. Stay tuned and get your fists ready for some heavy pumping and your eyeballs ready for some heavy reading of some bomb dropping!
This is the first of many keynotes and announcements and talks we'll be having with and on Google's biggest event of the year for developers (aka their biggest event of the year period.) We're expecting some huge Android news, some huge news on Google Chrome both as a browser and as an OS, and some new devices to be revealed here and there MAYBE. We'll see.
What in the world is that exercise bike doing up there on stage?
To stay attuned, follow our twitter at @androids, see our Facebook page at http://www.facebook.com/AndroidCommunitycom, and follow the keywords right here starting with [IO 2011!] We're pumped up – you get pumped up too – we'll all freak out together! Also feel free to follow along right over here for a live stream of this first event.
)
Toshiba announces delays for next Android tablet
Posted: 10 May 2011 07:14 AM PDT
Toshiba has been around the computing market for a long time and when the tablet started to take off it stepped into the tablet realm. Last year Toshiba offered up an Android tablet running Froyo that was called the Folio 100. It has promised a follow-up to that tablet with a larger screen and some new features as well. That follow up tablet has been pushed back by Toshiba without much in the way of explanation.
The first time we heard about the new tablet it was using a 10-inch screen with a 1280 x 800 resolution. It was also pegged for an NVIDIA Tegra 2 processor and the Android Honeycomb OS. Other specs included a 5MP rear camera and a 0.2MP rear offering. The tablet is also to have WiFi, SD card slot, and USB ports. With Toshiba not offering up any official reason for the delay, some rumors are starting to surface.
One rumor that might have some truth to it is that Toshiba is waiting for quad-core processor to put inside. That said components have been hard to come by for many companies in the tablet world so the delay could simply be along the lines of what Asus is facing with the Transformer. The new Toshiba tablet was originally expected in the UK during Q2. That has been pushed to Q3 with Toshiba's Ken Chan saying at the end of the summer.
[via RegHardware]
)
Samsung Galaxy S II coming soon to Orange UK
Posted: 10 May 2011 07:00 AM PDT
We mentioned yesterday that the pre-orders for the Samsung Galaxy S II have hit 3 million. That is a bunch of pre-orders and clearly Android fans are looking forward to the smartphone. The S II went on sale in Korea last Sunday and if you are in the UK, the good news is that you can get your own S II very soon. Orange in the UK has the Galaxy S II on its coming soon page. That's not as good as available now, but it's a start.
We still don't know exactly when the S II will hit the network to purchase, but it shouldn't be too long with the phone already in stores in Korea. You will be able to land the smartphone on the Orange network free with certain plans. This should prove to be one of the more popular handsets on many networks. It is certainly feature packed with some great specifications that will allow the phone to do just about anything you want it too.
The smartphone runs Android 2.3 and uses the Samsung TouchWiz UI. The downside is that custom UIs may lead to OS update delays. The phone has a 4.3-inch Super AMOLED screen covered with tough Gorilla Glass to prevent cracks and scratches. The camera on the rear of the smartphone is a 8MP unit and it will record full HD video. The smartphone boasts 1GB of RAM and the processor is a 1.2GHz dual-core unit.
[via UnwiredView]
)
Official: Microsoft to Acquire Skype
Posted: 10 May 2011 06:24 AM PDT
SlashGear mentioned early this morning that there was word that Microsoft would be purchasing Skype and that the official announcement was to be made this morning. That official announcement has just landed. Microsoft has officially said that it will be acquiring Skype, and the deal is very far from cheap for Redmond. The purchase of Skype will cost Microsoft $8.5 billion in cash. The cash for the purchase comes from an investor group led by Silver Lake. The boards of both Microsoft and Skype have agreed to the purchase.
Microsoft notes that the purchase will increase the accessibility of real-time video and voice communication for consumers and enterprise users. Skype will also enhance the Microsoft portfolio of real-time communications products and services. Today Skype has 170 million users and those users made a total of 207 billion minutes of voice and video calls during 2010. Skype will be supported on platforms like the Xbox and Kindest according to Microsoft. Skype using the Kinect would be an interesting thing indeed.
Microsoft will also integrate Skype into other services and platforms, including Windows Phone and other Windows devices. Skype will also be able to connect users to Lync, Outlook, Xbox Live, and other communities as well. One key promise from Microsoft that will be required by regulators eyeing the purchase is that Microsoft has committed to continued development of Skype for non-Microsoft platforms. I know a lot of Android users won't be happy about this announcement at all.
"Skype is a phenomenal service that is loved by millions of people around the world," said Microsoft CEO Steve Ballmer. "Together we will create the future of real-time communications so people can easily stay connected to family, friends, clients and colleagues anywhere in the world."
)
Advent Vega gets Honeycomb port complete with Hardware Acceleration!
Posted: 10 May 2011 04:43 AM PDT
Generally, when it comes to porting Honeycomb over to a tablet that hasn't had the official release of the OS you lose some important features and capability. One of those important features that it lost with every port out there is the hardware acceleration. Without hardware acceleration, the tablets will run Honeycomb, but things slow to a snail's pace when animation and transitions happen making the user experience less than ideal.
Word has surfaced today that a new port for the Advent Vega Android tablet has turned up and this port has that all important hardware acceleration built-in. If you aren't familiar with the Advent Vega tablet, you can check out the review sister site SlashGear did on it here. The port has been in the works from a team of developers including XDA members Zebwen and HomerSp and it is not complete just yet. The port apparently uses bits of the code from the SDK, Motorola Xoom, and Asus Transformer tablet.
The interesting thing about this is that many devs and Android users considered hardware acceleration on tablets with official Honeycomb to be impossible. Hardware acceleration in other ports has been tried and has always failed until now. The other good thing about this port landing hardware acceleration finally is that the tech and programming used here may mean hardware acceleration for other tablets too.
[via XDA-developers]
)
Samsung Galaxy Tab 10.1 Boot Animation
Posted: 09 May 2011 11:40 PM PDT
At Google I/O 2011 we've been allowed to take another hands-on look at the Samsung Galaxy Tab 10.1, this time with a functioning set of insides. If you'll think back to a few months back to when we were sitting around chilling in Orlando Florida at CTIA 2011, you'll remember that we got to peek at this super lovely device alongside its slightly smaller 8.9″ sibling. Back then it was just a dummy though, relying on a separate tester tablet to show off what would eventually become its own user interface: Samsung's TouchWix UX. What we get to see at the pre-party with Samsung at this year's Google I/O is a nearly-fully-functional model of this device, complete with a working version of Android 3.0 Honeycomb.
This post serves basically solely for the video you're about to watch, one where you get to see what we expect is the final boot animation you'll be working with when you eventually power up your own Galaxy Tab 10.1 or 8.9 when you own it later this year. What you wont find inside this device is a functional version of TouchWiz UX. It's either not ready yet or they're not letting us see it until the big event in a couple of weeks (if that's indeed what they'll be revealing at the press event on the 24th of this month.) We'll be there to let you know then, too, live, in person, and with all kinds of fingerprints all over the screens.
Have a peek at this video and get super pumped up because this is going to be the thinnest tablet on the market (thinner than the iPad 2, yes indeed,) and it'll be rolling out with our good friend Android – the game has been brought to the court! Man up, everyone else, this is the new big gun. Have a look at the rest of the peek we got at the device in Samsung Galaxy Tab 10.1 Hands-On [Video] [Google I/O 2011], noting then that you'll be able to catch all the awesome Google I/O action this year courtesy of your good friends here on Android Community via the big fat portal: [I/O 2011]!
)
Samsung Galaxy Tab 10.1 Hands-On [Video] [Google I/O 2011]
Posted: 09 May 2011 10:32 PM PDT
It's about that time again, time to get another hands-on with the Samsung Galaxy Tab 10.1, this time with a working set of guts! Last time we had our claws around this magical device, it was in Orlando Florida at a super secret event where we were able to see a very early chassis of the device (with a gray/black back and no working insides,) alongside a tablet unit made specifically to show off Samsung's new TouchWiz UX (sort of right alongside TouchWiz 4.0, but made for tablets.) What we're seeing now here at Google I/O is a fully functional Galaxy Tab 10.1 unit, white backed and beautiful!
A bit more info on what you're about to see: this is a whole new generation of tablet PC, featuring Android 3.0 Honeycomb on a 8.6 millimeter thin slice of technology that feels like a whiff of air, essentially. The 10.1 version of this tablet (the one we're seeing here today) weighs in at 595 grams and is the thinnest mobile tablet in the world – yes, thinner than the iPad 2. This device is set to support HSPA+ network speeds, Bluetooth, Wifi 802.11 a/b/g/n, and comes packed with a 1GHz dual-core processor for excellent banging for your buck.
NOTE this device is currently still running a stock version of Android 3.0 Honeycomb, but will be launching with the TouchWiz UX we saw at CTIA 2011
Have a peek at the extensive gallery of our pro holders of the tab and a video specially directed by George Lucas for you fans of excellent filmmaking. We spared no expense here, this is probably the best video you're ever going to see in your entire life. Meanwhile, stay tuned as we continue to bring you the hot, hot Google I/O action via your 2011 portal.
Be here for all the up to the minute action all week!
)
Why 4G is Ape Spit to You and Me
Posted: 09 May 2011 03:35 PM PDT
Lets begin by noting that marketing, especially when it comes to technology, is all about making the consumer believe two things. The first thing a technology consumer should believe is that they need the technological breakthrough you happen to be selling. The second thing a technology consumer should believe is that your device or service is only good until you've got a newer product or service for sale. But what if you've got a product that isn't quite as good as your competitor? In the epic case of USA's infatuation with mobile network speeds, carriers have chosen the wrong path: aping one another.
Image via SlashGear, illustrated by Rue Liu
In the current state of things in the mobile industry, at least here in the USA, is one where the actual performance of your network has nothing to do with the label you're legally allowed to give it. All of the major mobile carriers in this country are saying they've got a 4G network while each of them is very, very different from the next. Instead of offering a superior product, businesses here are leaning heavily on advertising and marketing, (read: evil,) to sell consumers on the idea that they've got the most bang for the buck they're about to spend on mobile data.
I'm not going to cry and beg here, I'm not going to tell you that I demand anything from these mobile carriers, no way. Instead what I'm going to do is offer some sage advice. If you'd like to win the pocketbooks of your consumers for longer than the amount of time you've got the hottest device on the market, you're going to have to stop announcing that your network has 4G speeds.
And you can't just stop there. You've got to sell the public on the idea that a single term for a product such as network speed is bunk. Why? Because it is! And not only is the term 4G an absurd goal for every single big network to be reaching for, it's a pile of spit. Wireless networks have put so many different speeds under this same umbrella term that it's lost all meaning, and has become a situation that people will look back on and say, "shoot, that was silly, I should have just gone with network X all along, at least they weren't lying to us"
Network X, here's what you do to differentiate yourself and not only gain the majority share of the mobile business, but the majority mind share of the consumer public as well. Completely forget everyone else and come up with your own terms. Obviously keep an eye on everyone else behind the scenes, but stop acting like a bunch of politicians and act like the omnipotent businesses you are. Why do you think Android is so powerful? Why do you think Apple is so powerful? They speak in terms their audience understands and they allow the consumer to choose based on who they love the best, a situation I don't think any of the major networks are doing enough to nurture at this very moment.
Be a home to your consumers, don't be a race car driver in an Indy 500 against the rest of the networks. Furthermore, Ozzy and Bieber are making fun of you, and have been since the Superbowl.
)
WatchESPN app comes to Android
Posted: 09 May 2011 03:16 PM PDT
There is a lot of times during the week when you might find yourself with nothing to do and wishing you had something you could watch. You can resort to watching questionable YouTube videos or Netflix if you have it. If you are a big sports fan, the WatchESPN app has landed on the Android platform. The app has live video streams from channels just like the iPhone version.
The app requires you install Adobe Air and that the smartphone be using Android 2.2 and up. The app apparently isn't supporting the larger screens of Honeycomb tablets at this point and there is no mention if later updates to be more tablet centric. The big downside is that the app will only work for subscribers to cable providers that are supported. Supported providers include Time Warner Cable, Bright House Networks and Verizon FiOS TV.
The channels supported include ESPN, ESPN2, ESPN3, and ESPNU. Depending on your plan, you may be limited to streaming ESPN3 alone. If your cable company is supported you can grab the app for free on the Android Market. An iPad version is supposed to be coming, perhaps after that version launches a version for Honeycomb tablets will come.
[via Engadget]
)
ClearCaption app launches to help the hearing impaired read phone calls
Posted: 09 May 2011 02:58 PM PDT
There are bunches of apps on the market today that allow users to do all sorts of stuff. A new app has surfaced for the Android platform that is called ClearCaptions and it is aimed directly at the user that has hearing problems. I would imagine the app would also be useful for people that can hear but work in an environment where it's too loud for clear calls.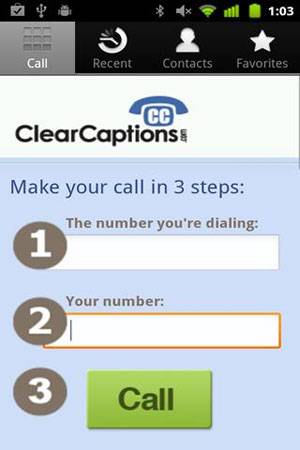 ClearCaptions is an app that can be downloaded and installed and allows the user to read the calls they make like a text message. The service offers near real time captions for voice calls on web browsers and on the iOS platform as well. The service can be used by qualified people for free. The app is offered for 31 million Americans with hearing loss. The app is in beta right now and can be downloaded on the Android Market.
"The need for ClearCaptions is significant, unmet, and growing," said Dan Luis, CEO of Purple and its ClearCaptions line of business. "With the first baby boomers reaching age 65 this year, the population of older Americans is expected to rise sharply over the next 20 years. The number of Americans with age-related hearing loss – and who find using the phone increasingly frustrating – is growing just as rapidly. For this population, and for everyone with hearing loss, ClearCaptions makes it much easier to effectively use the phone."
)
Droid X Gingerbread update approved
Posted: 09 May 2011 02:33 PM PDT
Last week, we reported a rumor that a Droid X Gingerbread update could be coming May 13th after being submitted to Verizon several times for approval. The update had originally been slated for an April release, but that slipped since Verizon wanted a few changes before signing off. The word now is that Gingerbread for the Droid X has been approved and will be coming out as an OTA update as early as Friday, May 13th. So while still a rumor, it takes the next giant step out of the shadows.
A Droid X running Gingerbread isn't really news. Rooted Droid X owners have been doing it for weeks. But not every Droid X owner can enjoy it without some effort. For those who can't root and flash their Android handset in their sleep, the official Verizon update will be most welcome.
The update will include user interface tweaks, one touch copy and past, better battery life and Voice Over IP. There will also be new media format support and multiple camera access. So, come Friday, you may want to keep an eye out for the update. Backup your data first, and go to Menu, Settings, About Phone, System Update and then select Download. Make sure your battery is fully charged as well since the update will take at least a half hour or more to complete.
[via Wireless and Mobile News]
)
Posted: 09 May 2011 02:13 PM PDT
Well what do you know? It's a Sprint Nexus S for your vanilla enjoyment. We got a brief, very brief, and I mean BRIEF look at this device back at CTIA 2011 down in Orlando and found that the only big difference between it and the original to be the weight and the look under the battery cover. Remember the Spy Shot Epic? There's also no slot for a SIM card – no need now that it's not on T-Mobile, right? Right? Right. Sprint's showing off what it says are 4G speeds here, will it stand up to the test? And what other secrets does this newest iteration of Google's Gingerbread flagship hold?
Let us begin with a bit of a hands-on look from the moment we received the device in the mail. Twas such an epic moment, and the first time yours truly really got to hold the device in mine hands. Oh how lovely it truly is. So smooth, so similar to the original, with a slight scent of Sprint on its body.
Hardware
You're rolling out with a device that is made to fit in the palm of your hand. It's not to large, not too small, and feels like a top-tier device from start to finish. If you recall, there was a bit of hubbub about this device not having Gorilla Glass when it definitely should have, considering the awesomeness of the material and brand power in the name. Instead there's an unnamed curved display cover that, heck, looks and feels pretty darn nice if I do say so myself. So smooth, so savory. Tastes great!
You've got light and proximity sensors up front, a 0.3 megapixel camera, and a 5 megapixel camera on the back. This Nexus S 4G handset fires up from completely off to completely on in under 12 seconds because it's vanilla Android. The display is the second brightest you're going to see on the market at Super AMOLED, right under Super AMOLED Plus which is currently on the DROID Charge and the Infuse 4G.
The battery cover has a Samsung lip near the bottom, again feeling quite nice on the palm of the hand, and a clever flat pattern along the entirety if the cover under a clear white Google and Samsung. Under the cover you'll find a bunch of plastic surrounding your battery. There's no microSD card slot and you've got a miniUSB port next to a mic hole and a headphone jack at the bottom of the device. That's it! Simple stuff.
Software
Of course, as you know, this is a vanilla experience, which means that this Android device has only the apps upon it that Google demanded. That means there's no more than 30 apps installed when you take this Nexus S out of the box. You've got the Android Market installed as well so you're able to expand unto the horizon with infinite apps should you choose to do so. Furthermore, this is Google's flagship for Android version 2.3, also known as Gingerbread. It's therefor optimized to the best of Samsung and Google's ability to work with the mobile operating system in its completely unaltered state.
What you'll see in the Performance section below is a selection of benchmarks run to show you how this device adds up against the rest of the Samsung (or whichever other manufacturer you choose) devices we've reviewed in the past. In particular you may want to compare to the Infuse 4G as it's literally the last Samsung device we've taken a look at. Are they similar? Find out!
Camera
The camera is definitely not one of Nexus S' strong points. It's also not the worst combination of cameras in the world. You're going to want, especially if you're an average, everyday user, to weigh this element heavily when choosing whether or not you're going to pick up a Nexus S device. Have a look at the examples below to see how a few shots add up. The following media documents the highest quality settings on both cameras:
Front-facing 0.3-megapixel Photo
Back-facing 5-megapixel Photo
Front-facing VGA Video
Back-facing 720 x 480 30 fps Video
Back-facing 5-megapixel Flash Photo
Phone and Performance
Voice quality is fine both two and from the phone. There's only a single microphone on this device (at the bottom) as opposed to the one on top, one on bottom combination that's emerged over the past year or so on basically every top-tier device in the field for voice cancellation. I've not noticed the difference, but then again I don't regularly make calls in crowded train stations.
As for everyday performance, everything is slick as greased lightening.
You know GOOD and well that there's not much of anything as far as bloat holding you back, not a whole lot of anything stopping you from going to and from apps, sliding in and out of screens and lists, everything at super speed because this device is as stripped down a version of Android as you're going to get. That said, take a peek at the specs which reflect the 1GHz Cortex A8 (Hummingbird) processor quite clearly:
Smartbench 2011
Quadrant Advanced
Linpack
Speed Test*
If this upload and download speed seems rather slow to you for 4G, your perceptions are correct. We've been unable to find a 4G signal in the area thus far, so the single speed set you see above is Sprint's 3G network. Additional tests will be done over the next few days to give you a more accurate look at this set of data speed numbers.
Battery
Battery life is essentially the same as it was in the original T-Mobile 3G version, with Gingerbread's handy dandy battery tracking graph to show us where all the power is flowing in and out of. A 1500 mAh battery on a device which demands so little of it means a full days medium to heavy use, no problem. The Super AMOLED screen is going to be your biggest battery drainer, but it's essentially a drop in the bucket compared to what some certain 4G competitors data transfer is doing to their battery life. It's like a cool breeze!
Wrap-Up
This is an extremely well-crafted device. If you've never held a Nexus S in your hand before, I suggest you head out to the store tonight just to get a fix. It's clearly made to fit in the palm of your hand, and the curved display makes you fall in love the same way the curved Gorilla Glass does on the LG G2x. Speaking of that heavy competitor, you're soon going to have to decide between the two. Why? Because they've both got a vanilla Android going on, and sooner than later the G2x will be running Gingerbread, with a dual-core processor, and curved gorilla glass, and an 8 megapixel camera on the back, 1.3 megapixel camera on the front. What does the Nexus S 4G have that the G2x doesn't have?
Nexus S 4G has an NFC (Near Field Communication) chip inside, it's running on Sprint, and it has what Sprint is calling 4G as opposed to that T-Mobile is calling 4G. They're both extremely pleasing phones to handle, and they're both extremely well put together in their very simplistic versions of Android. That's the choice you're going to have to make – especially since they basically cost exactly the same price.
Google's Nexus S 4G, made by Samsung, is a terrific phone. If you're on Sprint and want to stay there, consider this one of the best choices on the market right this second. Soon you'll be rolling out with an HTC EVO 3D. Unless you're a Samsung loyalist, in which case I can't see any reason why you wouldn't freak out over the oncoming freight train named GS2. For now though, grab yourself a slice of sweet silky smooth Android 2.3 Gingerbread pie and eat up – it's quite delectable.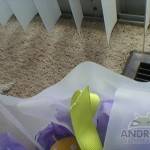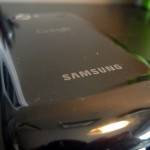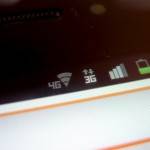 )
You are subscribed to email updates from Android Community
To stop receiving these emails, you may unsubscribe now.
Email delivery powered by Google
Google Inc., 20 West Kinzie, Chicago IL USA 60610